Hi all,
I thought there might be some interest in this new thread
Back in May, I found a Henry Boker thread box at an antique place in Westport ON. It's a large one, inch and a half, but it did not come with a tap (typical for these things). Even so, I could not pass it up for $10.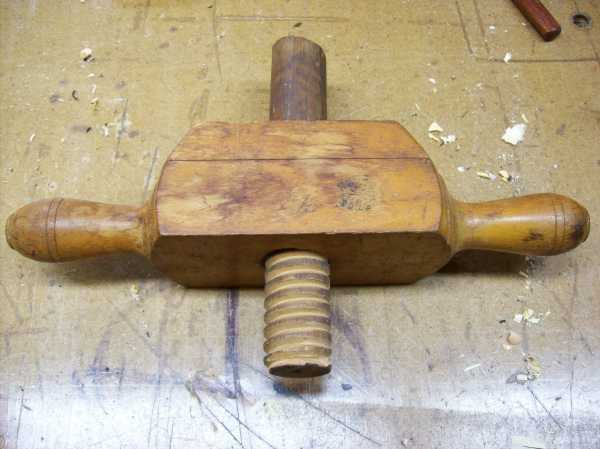 I brought it home, and when I inspected it, I decided that the cutter was dull (using the simple test of sicking my finger in there and seeing if it would cut me easily. Definitely dull. When I pulled the top plate off to access the cutter I found that it had been
nailed
there. Typical thread boxes have an L-shaped retaining bolt to hold the cutter. I asked the Oldtools List for advice and I was told to try it out first rather than risk altering the setting of the cutter. This was great advice.
A short time ago I managed to get some shop time and turned a hunk of maple down to size and try the thread box on it. I dipped the maple in BLO before threading (more good advice from the Oldtools List) and I was amazed at how well the threads turned out. Dull cutter and all!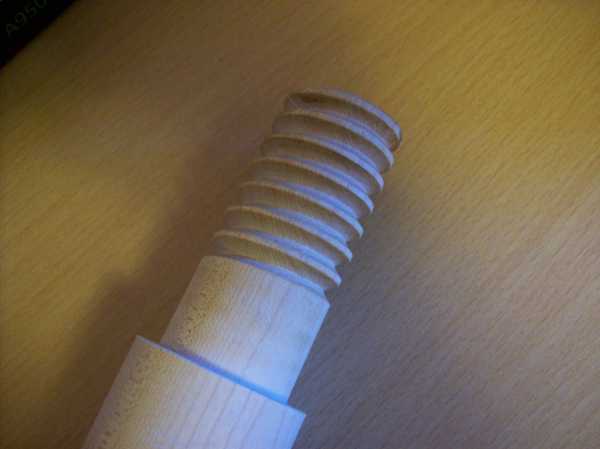 Of course, one needs a nut to fit the threads, which requires a tap, so I checked online to see if I could find such a beast. No luck. Odd sized stuff like this either does not exist or is hideously expensive. But I recalled that I had seen Roy Underhill cut internal threads with some kind of gizmo on one of his shows. Off to my collection of VHS tapes... Found it! I watched the show, and said, Hey I can do this, and yesterday I spent the afternoon in the shop on a work-avoidance project. Hey, it was raining anyways, right?
Here's what I made: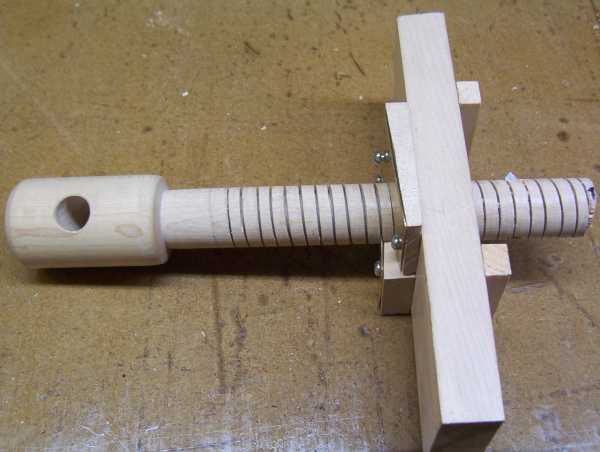 I turned another piece of maple down to the root diameter of the screw I wanted, laid out a spiral that matched the pitch of the threadbox, and then sawed a 1/4 inch groove along the spiral. Roy just waves the finished product at you on the screen and says "make this ,and then...". This was
really
tedious and difficult. But not as tedious as being a human clamp and waiting for glue to set (DAMHIKT).
I used some brass from a scavenged door kickplate for the "false nut". Due to the substandard layout and sawing of my spiral groove, I found that it was nearly impossible to make the shaft run true on the false nut. I discovered that if I left the screws loose on the plates, they would move a bit and the shaft would advance nicely. Lets hope that the tolerance of the fit between the screw and nut are large enough for my lack of accuracy.
The cutter itself is a pointed bit of unhardened O-1 let into a mortise and held in place by a small wedge. This is used to scrape the internal threads. In practice, you advance the cutter a wee bit, set the wedge and run the shaft through the block a couple of times. Rinse and repeat until the threads are done. How do you know they're done? I dunno, except that maybe the exposure of the cutter looks deep enough. I guess.
In any case, it worked. Not perfect, the threads are a bit stiff. I suspect that I need a slightly wider cutter. I also need a better bit to bore the holes for threading. The #20 auger bit I was using takes about a 1/16 inch chip, which is almost too much for me to crank in soft maple. I've asked Kathy to pick me up a 1-3/16 saw tooth bit from LV next time she's in the store.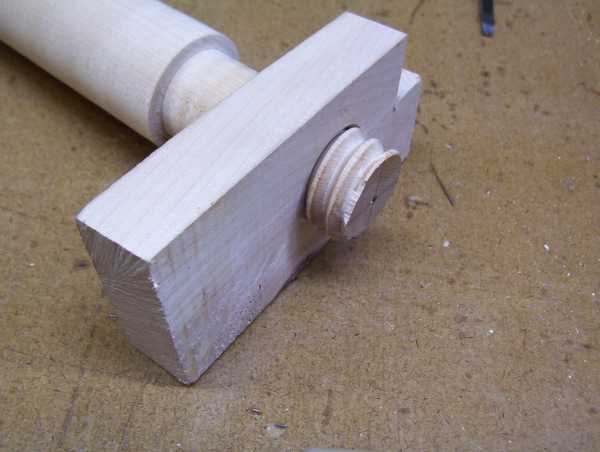 It works! Now, what will I use an inch-and-a-half wooden screw for?
Darrell