So, two months ago I was asked to give a demo so to speak, of my woodworking shop. It's for my son's daycare - he isn't part of the group as he is to young yet, but there will be 30 odd kids between the ages of 4 and 8 years old coming in the morning for 1 1/2 hours.
They have field trips to various places and the daycare (which is really well run, and more like a school than just a daycare) wants to show them what a woodworking shop is all about!
I have spent many hours in my head the past few weeks wondering what to do to give these youngsters some sort of relevant info, as well as keep their interest and not have anything too loud or messy.
I decided to cut out a bunch of parts on my Shopbot Buddy CNC router (a 48" by 48" machine), to make a small box, that they can assemble and finish. The front has their individual names V carved on it, and the bottom, sides and front/back are keyed together for easy assembly. I will get them to lightly sand the edges, and then glue them together. They will paint them at the daycare, and they can use them to store their pencils/pens/crayons, etc.
I am also going to (with the help of the apprentice working with me) get them to try planing a little basswood, with a few of my small hand planes - also drilling holes into a block of wood with a small hand drill and maybe driving a few screws. Maybe even try cutting some wood with one or two of my small tenon saws.
I of course will explain what I do when I make furniture and cabinets, but I wanted some hands on things for the kids to do.
I hope they have fun! I know I will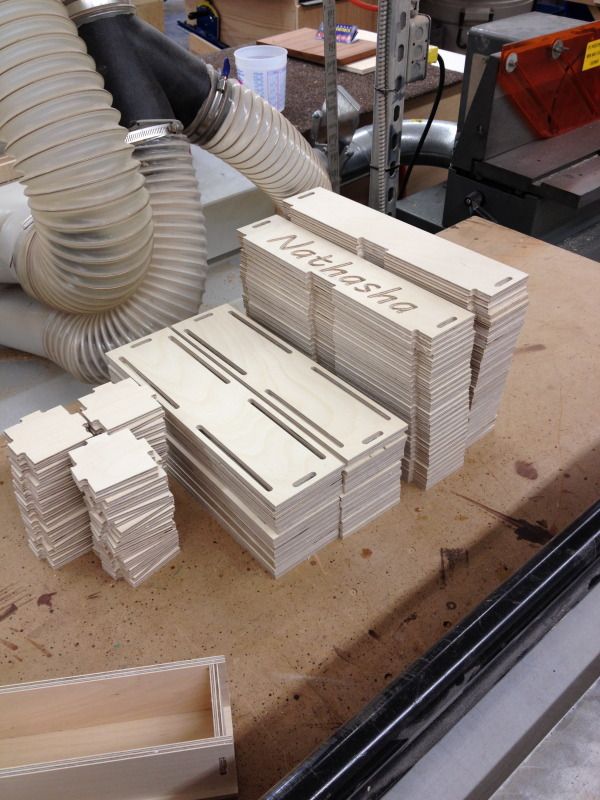 AJC