Hi,
Yesterday the Halton Furniture Makers Society visited Humber College in Toronto to learn a bit about building and using veneering bags.
They have a large bench area (44 benches) with a very well equipped machine centre as well.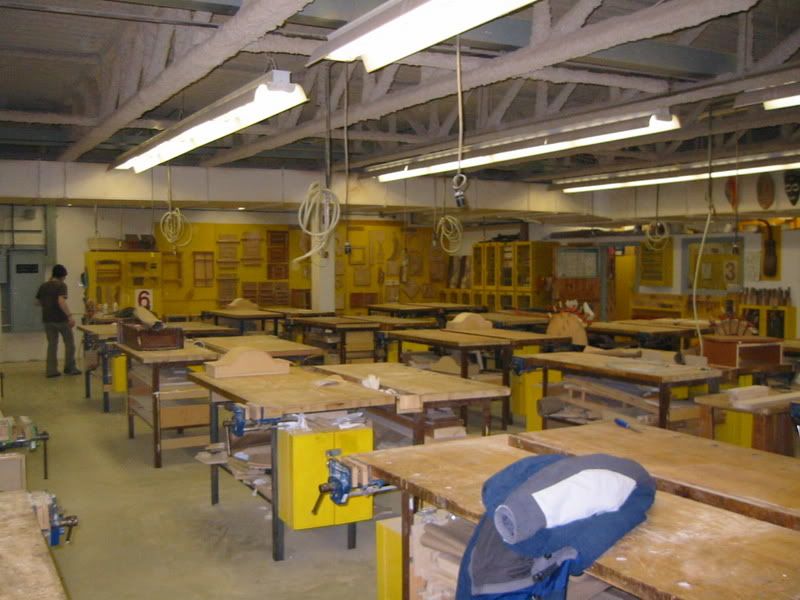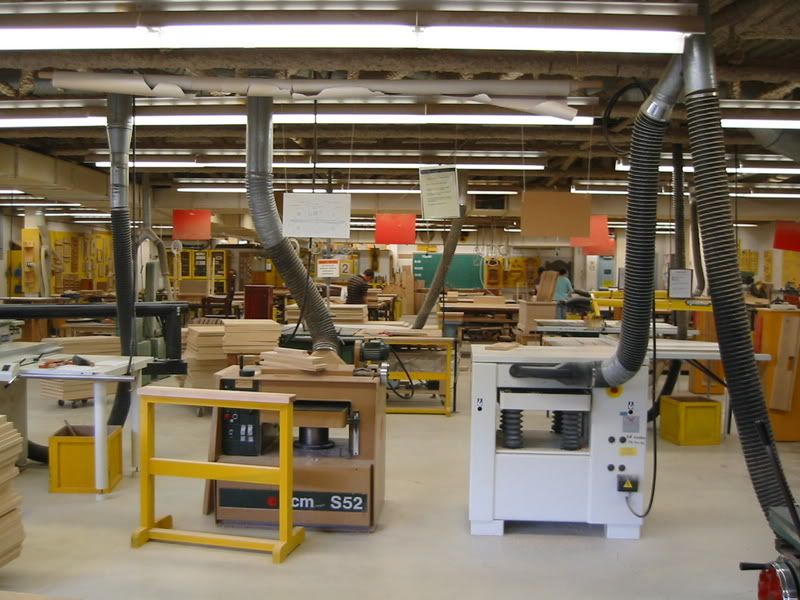 We met with Johan and he walked us through the process the school uses with the wood technology students (three semester, one year program). Johan showed us several veneering set ups including a home made vacuum frame as well as several dedicated bag set ups.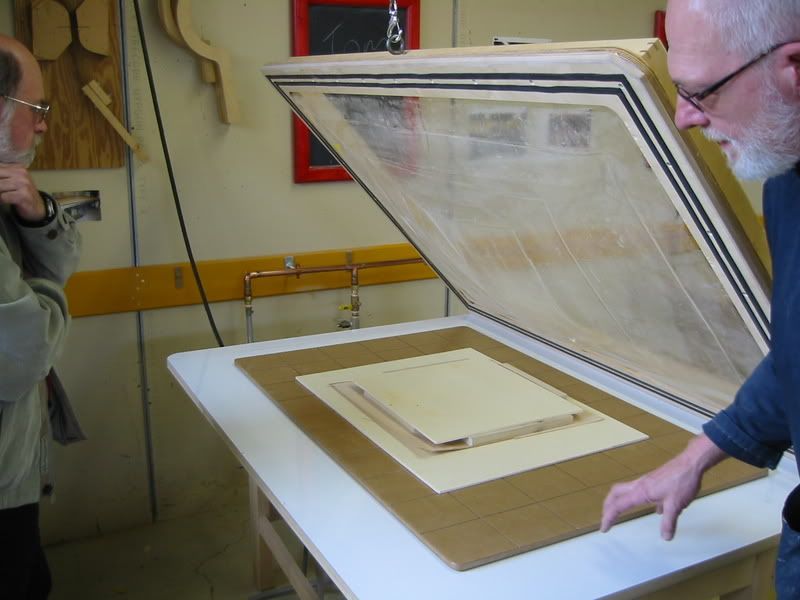 All the applications were home made, the pumps were either bought or built for the shop over the years.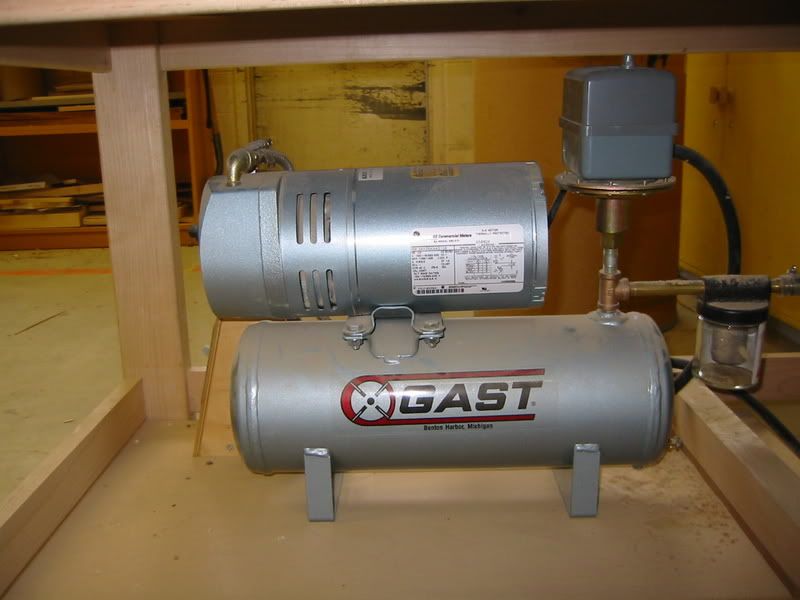 We also had the chance to actually build a bag with Johan. This was a very good opportunity for many of us as Johan shared with us his process and showed us how simple and cost effective it really is.
We were a little surprised that he only uses 20 Mil vinyl for his bags and even with the very heavy student use he showed us how they last about 18-20 months. Remember they have students in a trimester system and they are starting a new cycle of classes and students every semester, so there is heavy use all the time form each semester class of students as they start veneering on the second project they are taught in the first semester.
Johan showed us how over the years of experimentation he has settled on this process, using 20 mil vinyl that he buys locally from a plastic supplier, less than $8 a yard, using glue on the edges that dries once applied and is reactivated by heat and sealed with pressure, how simple.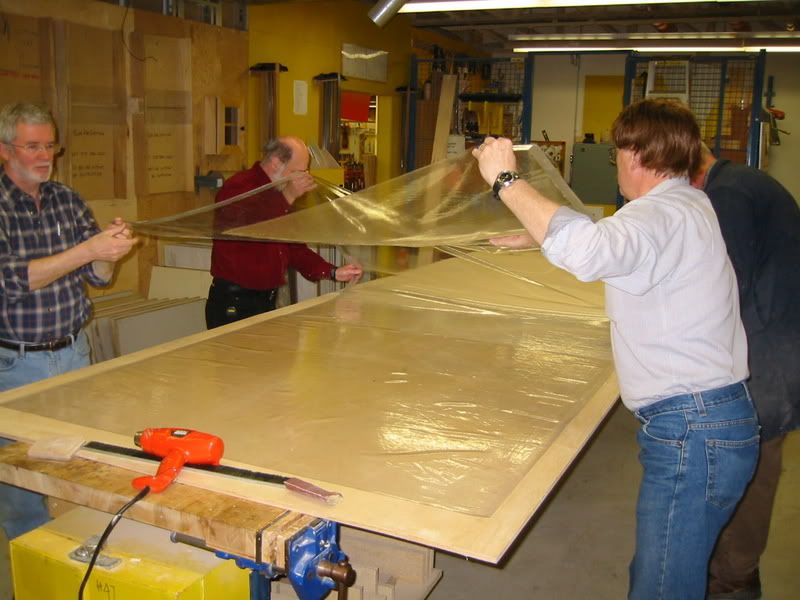 The edges to receive glue are roughed with 180 grit paper then the surface is cleaned up with a light acetone wipe. The bag is created by folding the vinyl on itself to length, then a heat gun and roller is used to seal the edge.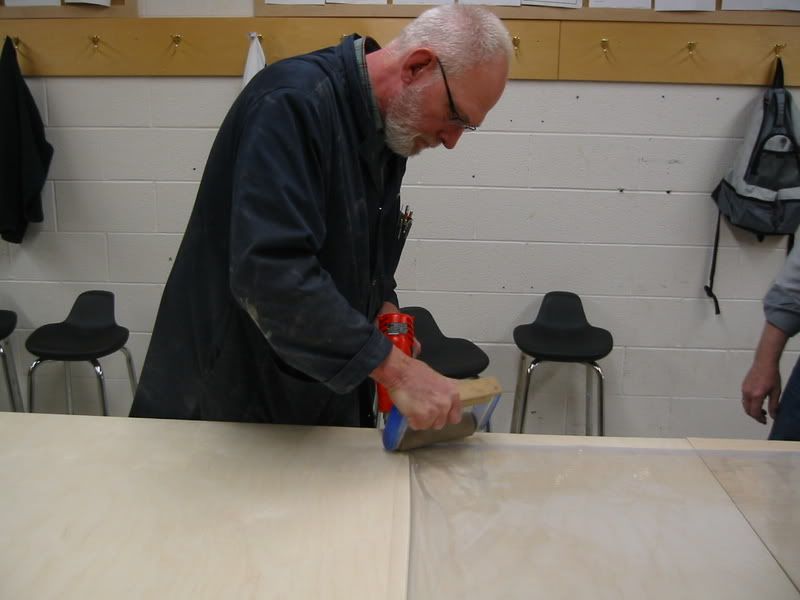 Finally after the edges are done Johan showed us how they use a dedicated plenum and connection that allows the bag to be sealed and placed on a dedicated work table with it's own centre hole for the vacuum line to drop through to the pump.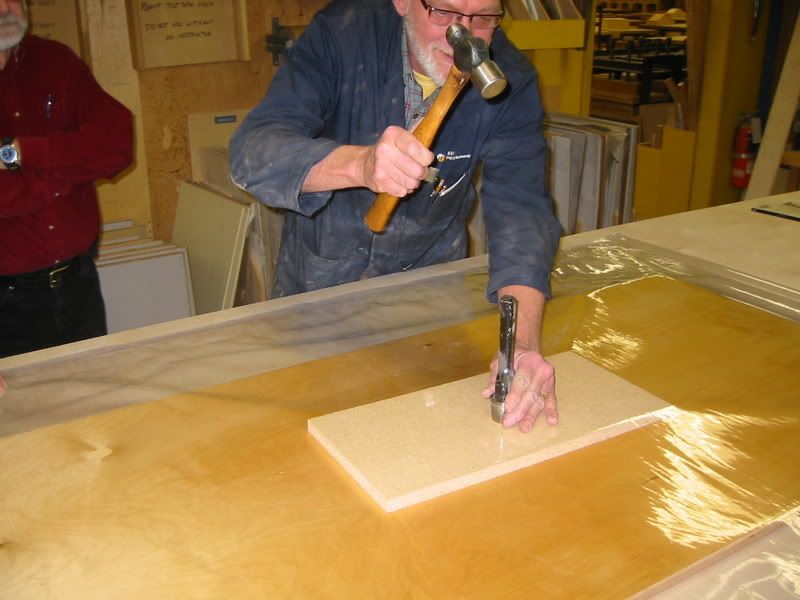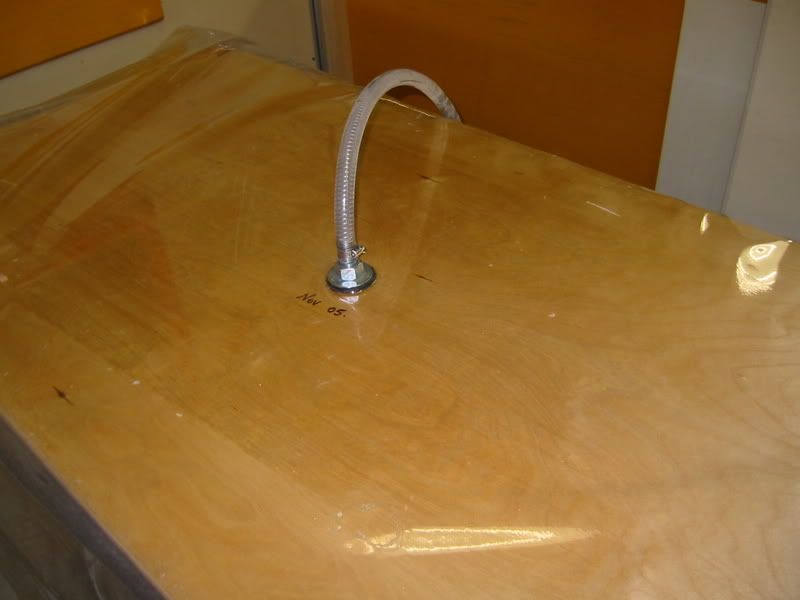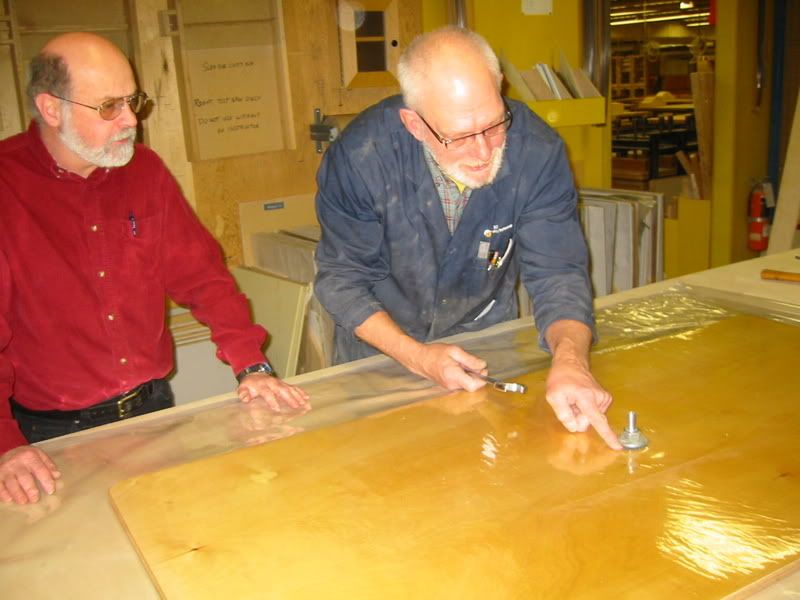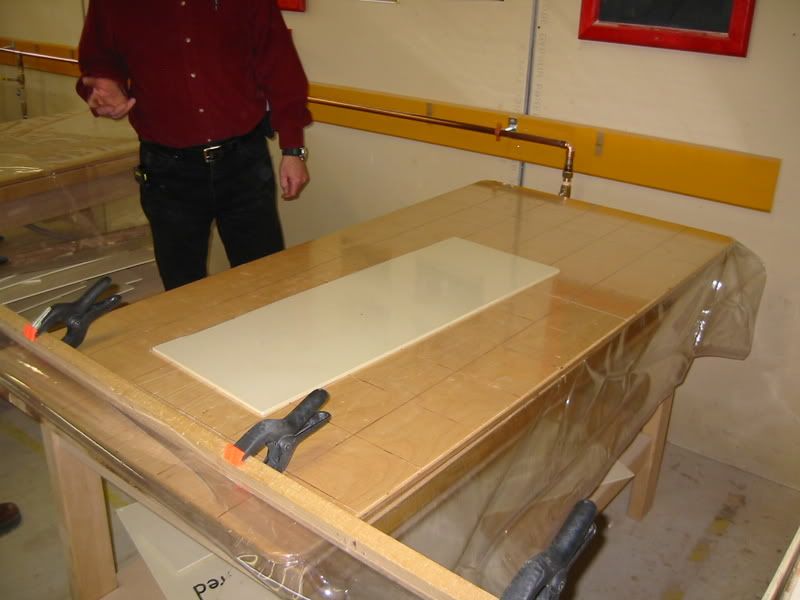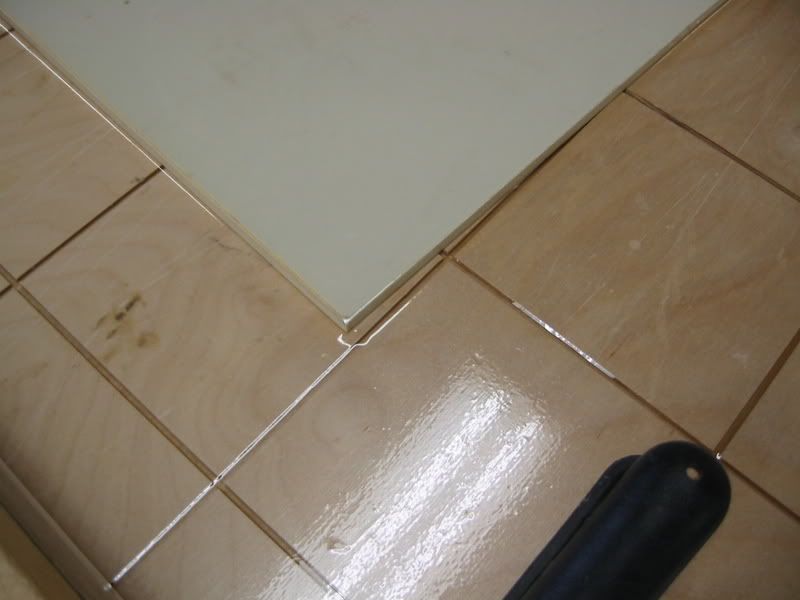 In less than 30 minutes we made the bag and had it back on the work table for a test run, success.
This example here is a student assignment to build a display cabinet. The students were required to build the bending forms and then to use the form to make the arched component for the cabinet. The top was built using wood veneers and 8 mm "wiggle board".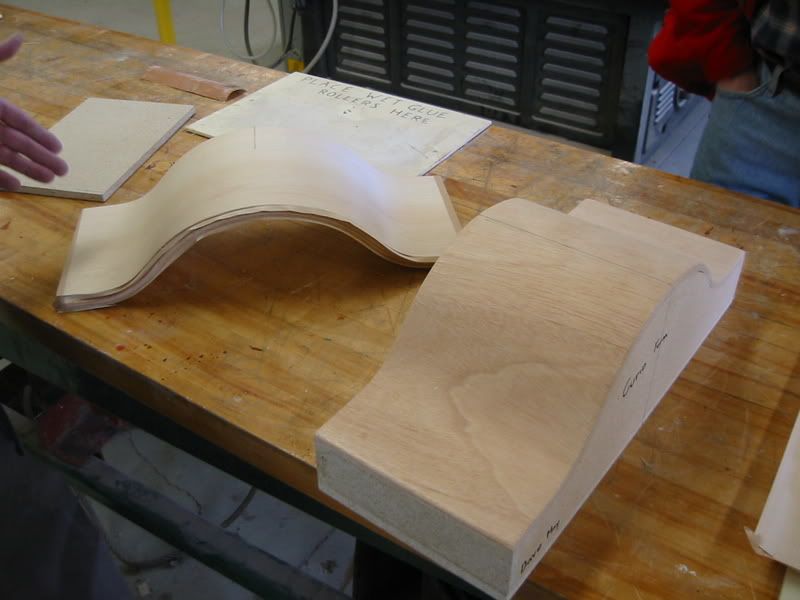 This exercise shows the huge potential for using forms and a vacuum press system to design and build projects with curved surfaces.
It was a very good visit for us at Humber, I know that I will now start to look at the vacuum system I have to use it to build more interesting designs in my future work.
Again a big thanks to Johan Geurtsen, your patience and kind sharing was much appreciated.